Music club owners, performers, and other OpenSim users are protesting tomorrow against Alternate Metaverse grid's restrictions on fan groups.
The protest is scheduled to begin at 9 a.m. Pacific time on Thursday, January 28 at the GasWorks region on the AviWorlds grid and will feature speakers, musicians, DJs, and vocalists.
The hypergrid address is login.aviworlds.com:8002:GasWorks.
The protesters are upset that the Alternate Metaverse grid is prohibiting the promotion of events on other grids, and say that some of their fan groups have been deleted.
Organizers include musician Rogue Parsons, also known as Rogue Galaxy, GasWorks Blues music club owners BlueLou McGrady and Rae Donogal, and Zuzions club co-owner Stevie Zee.
Others who have spoken up condemning Alternate Universe's actions include Bonnie Parker, a former administrator at Alternate Metaverse and now a resident of AviWorlds, AviWorlds resident Jazzi DarkChild, performers DJ Princess Gotti, and DJ Kawaii, Luna Stormfeather, Taylor Made, Abaddon Darkness, AviWorlds administrator Pride Vice and AviWorlds CEO Josh Boam.
"On the day of the event, we will have 16 display posters on the sidewalks and you can get a sign of your choice by clicking on the poster you like," Rogue Parsons told Hypergrid Business.
According to Parsons, the specific Alternate Metaverse administrator responsible for problems is Cataplexia Numbers. As of publication, she did not respond to a request for comment.
"She is holding my group hostage and I cannot notify my music fans of where I am playing," said Parsons. "My group has a lot of hypergrid members, not just members of Alternate Metaverse. I worked hard these past six months to build up my fanbase. She is trying to ruin my music business by holding my group hostage."
Some OpenSim residents are supporting the protest with signs. Some signs are also available on the Welcome region of the AviWorlds grid, at hypergrid address login.aviworlds.com:8002:AviWorlds Welcome.
"The event being held on Thursday is being done in support of those who feel their opinions, and feelings and grievances do not matter," GasWorks' BlueLou McGrady told Hypergrid Business. "It is a chance for them to get things off their chests."
Some grid managers may feel that allowing the promotion of events on other grids could encourage their residents to leave.
"But it can also encourage residents of other grids to visit the Alternate Metaverse grid," said Hypergrid Business editor Maria Korolov. "By creating restrictions, AMV is discouraging performers from choosing Alternate Metaverse their home base. In addition, if residents love their home grid then they become ambassadors for that grid when they travel elsewhere."
GasWorks says 200-member fan group has been deleted
The user account belonging to GasWorks, a music club, was banned and the club's fan group of more than 200 members deleted last month, said GasWorks' McGrady.
"Without warning, or advance notice, the GasWorks VIP group was deleted by Alternate Metaverse grid management," he said. "Gone. It is important to note that our notices were simply event notices with a hyperlink to our new location. We did not ask group members to leave the Alternate Metaverse grid. Ironically, the last notice we sent in the VIP group was a notice in support of an event being held on the Alternate Metaverse grid."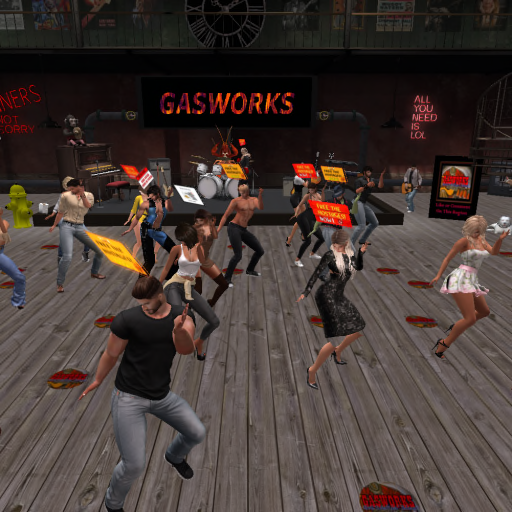 GasWorks owners Rae Donogal and BlueLou McGrady then left the Alternate Metaverse grid as we covered in a recent post.
"I pulled the club GasWorks from the Alternate Metaverse grid due to numerous incidents of being treated poorly by management of Alternate Metaverse," said McGrady. "My original intent was to simply leave quietly as we had found a good place to land in the AviWorlds grid."
Many others known to GasWorks owners have also had a number of restrictions, bans, and their groups held hostage, and many do not feel their voices are heard or their opinions don't matter, according to McGrady, and this is the reason they will be having the protest event this Thursday.
"The last time I checked, Alternate Metaverse grid was a hypergrid enabled grid," McGrady said. "As such, theoretically, people are allowed to move freely between grids, for visiting, shopping, or entertainment.  Unfortunately, instead it seems to have become almost a Hotel California type situation where you can check in, anytime you like, but you can never leave."
He says the Thursday protest event may not fix things in the long run because he is certain the management of Alternate Metaverse grid will take a stance that they are being victimized.
"That isn't really the case," he said. "People feel mistreated, wronged, and then dismissed. That rarely works for very long before they speak out."
Rogue Parsons, who has a fan group called Rogues Rowdie Followers on Alternate Metaverse, which has over 100 members, says that she cannot now use the group to promote her events.
Alternate Metaverse was her first grid when she first came to OpenSim eight months ago. She received a free region, Treble Clef, and was paid well to perform at several shows on the grid, she said. But the relationship has soured and she has not been able to post on her fan group page at Alternate Metaverse since January 7.
"I am not banned from Alternate Metaverse," Parsons told Hypergrid Business. "But Cataplexia told me that I can no longer post my hypergrid events to my personal fan group on her grid."
She'd been posting all her events to the group, including all her hypergrid events for the previous six months.
"Cat told me I am no longer allowed to do that," said Parsons. "I did send a notice to my group today and I'm afraid she will delete it like she did with the GasWorks Group. As a performer, I depend on reaching out to my music fans. I am a member of Alternate Metaverse. As a member, I am free to create my personal groups and I used my group for music fans from all across the hypergrid."
She says that she now regrets referring her friends and fellow musicians to Alternate Metarverse.
"I have started a group at AviWorlds and I'm building it up," said Parsons. "It has 20 members, and I also have a group at OSgrid with over 95. My experience at other grids is very positive and AviWorlds is very respectiful and supportive of their residents. Nobody tells me at AviWorlds or OSgrid that I cannot promote my shows on other grids."
Ironically, Parsons said that she hadn't been planning to hold a protest until Cataplexia accused her of doing just that.
"I logged into Alternate Metaverse one day last week and I got a notecard from her saying that she heard I had a Free the Hostages From AMV event, and that just wasn't true," said Parsons. "I never did that, but since she brought it up and accused me outright, I actualy thanked her for the idea, and went ahead to plan this event."
Bonnie Parker said that she was a manager on Alternate Metaverse back when the grid first launched but has since been banned. Part of the reason for the falling out, she said, was that was asked to go and spy on GasWorks while it was still the grid. She accused club owners were asked not to hold events at the same time as Cataplexia's.
"I went and met Rae and Blue, the owners of GasWorks, and I told them Cat sent me to spy on you," Parker told Hypergrid Business. "I asked them, 'Are you doing anything bad?' as I laughed — because I thought it a stupid thing to ask me to spy on someone."
Most grids do not place restrictions on fan groups
As a result of Alternate Metaverse's actions some residents, especially performers, have begun leaving for other grids.
"We here at AviWorlds have noticed a higher than normal amount of new account creation," said AviWorlds' Vice. "I am not aware if this has anything to do with this topic but I am going to go out on a limb and say it probably is."
One business owner who left Alternate Metaverse for AviWorlds reported that their groups were immediately deleted, Vice told Hypergrid Business. "Luckily they know all their staff and were still able to contact them."
AviWorlds places no restrictions on promotions either inside or outside the grid, and residents are welcome to use their avatars to perform or work on other grids.
"The only thing that AviWorlds asks is — don't grief," said Vice. "This also goes for your groups. We don't micromanage them. They are your groups to do as you wish for with them. We leave it up to the group owner to decide what they allow and don't allow. To deny an individual their creationism, individuality, exploration, and endeavors is completely immoral. Never take another's voice. It is their greatest power."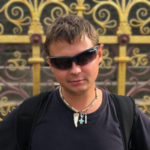 AviWorlds CEO Josh Boam said that he'll be attending the protest tomorrow.
"I'm going because I believe in our residents," he told Hypergrid Business. "We provide all users with the same care and support as anyone else and we strive for freedom. Common sense is the only rule."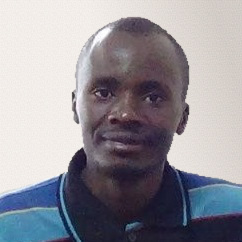 Latest posts by David Kariuki
(see all)