Virtual reality headsets are bulky and two companies have collaborated to take the weight off your head for augmented and virtual reality — and put it around your neck instead.
Motorola yesterday announced a 5G neckband that'll put connectivity, processing, and the battery in a collar and leave your heads up display light and comfortable. It's partnered with Verizon on the neckband which is able to connect to their mmWave 5G network.
There are no details on the device's name, pricing, or release date yet but Motorola and Verizon teased they were in talks with major partners including already in place retail channels that were doing things in AR and VR.
Motorola specifically mentioned enterprise and consumer users as its target customers.
The neckband can pair with ThinkReality A3 smartglasses, made by Motorola's parent company Lenovo — but it's meant to work with other smart glasses as well, the device being compatible with Microsoft's Remote Network Driver Interface and Qualcomm's Snapdragon VR platform.
"Motorola's wearable neckband and ultra-lightweight AR smart glasses leverage Verizon's 5G Ultra Wideband network and mobile edge compute platform, enabling us to deliver immersive technology in many fields, such as sports training and fan experiences, as well as making VR theaters scalable," said Brian Mecum, vice president of device technology at Verizon, in a statement on Motorola's website.
The complete device consists of a rope-like cable that goes around your neck with a card-sized module that dangles in the front, and a trapezoid-shaped module in the back.
The front module weighs under 4 ounces and has a Snapdragon 8 Gen 1 processor, a 5,000 milliamp-hour battery, a touchpad, SIM card slot, and a charging light indicator.
It also has a gyroscope, accelerometer, barometer, GPS, and a 5G antennae, with more 5G antennas embedded throughout the neckband.
The back module weighs under 3 ounces and also has an antenna and stereo speakers.
The device is still goofy-looking, and not the first time companies have tried to move more weighty components off the head.
Lenovo's ThinkReality A3 glasses, for example, require a PC or mobile phone for processing power.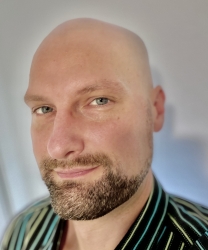 Latest posts by Alex Korolov
(see all)