Intel CTO Justin Rattner introduced OpenSim superstars Shenlei Winkler and Crista Lopes to the world yesterday at the at the SC09 supercomputing conference in Portland, Ore.
According to Rattner, super computers can make three dimensional worlds richer and more immersive, creating a potential new driver for supercomputing sales in the future. This will help offset the fact that demand for high performance computing in other sectors is dropping, as current technology is increasingly able to cope with today's computing requirements.
Three dimensional worlds, however, are a potential industry-changing platform that will force both producers and consumers of content to upgrade their hardware.
One such platform — OpenSim — is already in place and in use, and allows for interoperable worlds. That means that avatars are already able to teleport from one world to another, even if the worlds are run by different companies on different servers. Rattner introduced two OpenSim pioneers to a global audience yesterday, creating the potential for a new round of attention and interest in this platform.
Fashion Forward
Winkler is the CEO of the Fashion Research Institute, and has done some amazing work pushing the boundaries of what is possible in OpenSim on the ScienceSim grid.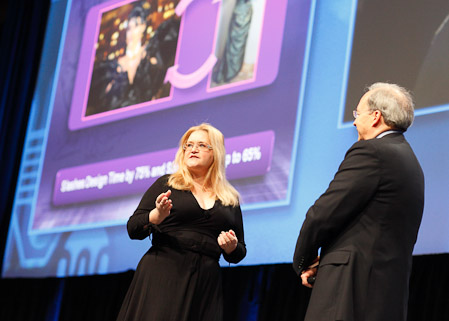 According to Winkler, "OpenSim can help the apparel industry design its product faster, better, and with less waste. "
The New York-based Fashion Research Institute has been using virtual worlds to cut costs, cut design and development time, and reduce the industry's carbon footprint – in some cases by as much as 65%, according to the company. Winkler — who is known as "Shenlei Flashear" in Second Life — has sold more than $70 million in apparel designs over the course of her career. In Second Life, her designs are available under the "Prim & Proper", "Flash & Trash", and "Debutante" brand names.
The Fashion Research Institute can be found on the Shengri La region in Second Life, and on the Shengri La Spirit and Shengri La Gallery regions on the ScienceSim grid.
She has also been instrumental in developing large-scale creative installations in OpenSim-based worlds, most notably Shengri La Spirit, previously hosted by IBM, and Shengri La Gallery, both of which may currently be visited as publicly accessible regions hosted by Intel Corporation on the ScienceSim grid.
She is the author of Designing Dreams: The Art & Business of Avatar Apparel Design & Development, and Shengri La Spirit: A Designer's Perspective of the Making of OpenSim, both available on Amazon.  Her newest book, Scouts, Pioneers, and Settlers: Virtualizing Business will be available on Amazon in January 2010.
Hypergrid Diva
Crista Lopes followed with a talk about the hypergrid protocol and how hypergrid teleportation turns standalone virtual worlds into an interoperable 3D Web.
Lopes, who is also known as "Diva Canto," is the inventor of the hypergrid protocol and a professor of informatics at the University of California, Irvine. She is also the cofounder of Metaverse Ink, a virtual worlds search engine covering OpenSim and Second Life grids.
Most recently, Lopes has released the free Diva Distribution of OpenSim, which allows for quick and relatively straightforward installation of OpenSim on any computer. The Diva Distro, as its commonly known, is composed of four regions connected into a single "megaregion" — a total of 64 square acres of virtual land. The Diva Distro comes preconfigured to run on the hypergrid, so people can teleport in and out from the minute it's up. However, like other OpenSim distributions, the Diva Distro requires either a direct connection to the Internet, or knowledge of how to configure a router to direct traffic from the Internet to the individual computer running the simulation.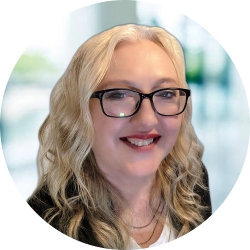 Latest posts by Maria Korolov
(see all)