Press Release: Unisfair Hosts "The Virtual Classroom: Effective Training on a Virtual Platform" Showcase Event on Sept. 9
Experts from ASTD and The eLearning Guild Outline How to Effectively Train Key Audiences While Significantly Reducing Cost per Attendee
Menlo Park, CA — Unisfair, the leading provider of virtual events and business environments, will host a free 2.5 hour live virtual event Thurs., Sept. 9. "The Virtual Classroom: Effective Training" will offer best practices from top practitioners on how to leverage a virtual platform to train, engage and collaborate.
Keynoted by Jennifer Homer, Vice President of Communications & Member Relations at the American Society for Training and Development (ASTD), the event will discuss how training employees, partners and customers in a virtual environment can increase the level of engagement, broaden the reach and significantly lower the cost per attendee.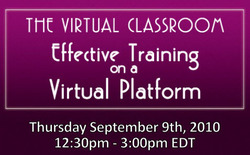 Expert panelists––including Stephanie Morris, Intuit; Phil Antonelli, ACS, a Xerox company; Brent Schlenker, The eLearning Guild; Beau Ballin and Anthony Warren, MotivAction––will reveal insights to the strategy and practice of virtual training. From industry experts, to real-life customers, to e-learning specialists, attendees will learn best practices via use cases. They will also receive a copy of Engaging the Learner in a Virtual Environment, a white paper courtesy of MotivAction.
Title: "The Virtual Classroom: Effective Training on a Virtual Platform"
Date/Time: Thursday, Sept. 9, 2010 from 12:30 – 3:00 pm EDT
Registration: http://events.unisfair.com/index.jsp?eid=140&seid=1652&code=pr
Key points of discussion will include:
Learning Design for Virtual Environments
Trends in eLearning
Virtual Training for Innovation
For more information, visit www.unisfair.com.
About Unisfair
Unisfair provides virtual events and environments that deliver highly measurable results for the world's most innovative enterprises. The company's industry-leading platform enables companies like Ariba, CA, IBM, Intuit, KPMG, Quest Software, and Novartis to implement a virtual engagement strategy across the customer lifecycle.
Unisfair's virtual events are easy-to-use and offer a highly interactive experience through speaking sessions, exhibition floors and networking areas. By delivering comprehensive attendee data, Unisfair's virtual events result in highly qualified leads and enhance demand generation, community building and customer advocacy.
Backed by Sequoia Capital and Norwest Venture Partners, Unisfair is headquartered in Silicon Valley and has led the virtual events space since 2000. For more information visit www.unisfair.com.

Latest posts by Press Release
(see all)