Just a day after Second Life launched its mesh beta, OpenSim already has experimental mesh in the latest test release, and people have begun trying the technology out on OSGrid's experimental Danger Grid.
According to OpenSim core developer Justin Clark-Casey, the OpenSim implementation of mesh leverages the work done by Linden Lab in their experimental viewer, available for download here, under the heading "Second Life Project Viewers."

The guy responsible is Dan Olivares (also known as Teravus Ovares) with assistance from Latif Khalifa and Intel's John Hurliman.
Most of the heavy lifting is actually handled by the viewer. The viewer imports standard Collada-format meshes and converts it into a binary format. Those converted meshes are then stored as assets, similar to the way that scuplties are stored, Clark-Casey said.
The mesh support is now available in the latest cutting-edge release of OpenSim for people to download and experiment with, though it may take a while for all the bugs to get worked out and for it to be part of mainline OpenSim.
"I hear that there is a lot of crashing, though I imagine the bulk of this is attributable to the [Second Life] beta viewer rather than OpenSim," said Clark-Casey.
In addition, collisions between mesh objects aren't working yet, and meshes aren't yet saved when an entire region is saved as an OAR file.
OpenSim developer Dahlia Trimble will be working on the collisions. And Clark-Casey said he will be looking at the OAR export issue himself.
And some additional work needs to be done with linking complex meshes together.
Meanwhile, the realXtend development effort, which has had working meshes in OpenSim for a year without getting much traction with the broader OpenSim user base, becomes almost completely irrelevant.
The realXtend project, and the associated modrex module for OpenSim, uses a different mesh implementation than that rolled out by Second Life.
As a result, the modrex work wasn't helpful to the team bringing meshes to OpenSim.
"Certainly that module is not directly used in this implementation," said Clark-Casey.
However, the realXtend team has done some interesting work, Olivares said, especially with the Naali viewer, which has a more business-friendly BSD-style license. The Second Life viewers are GPL licensed, and cannot be used to produce custom viewers for commercial sale.
"In the future, I hope to generalize the server-side mesh interface more so that things like [realXtend's] Ogre meshes can be uploaded and used where available," he said.
Where to try them out
After downloading the experimental project viewer, you will need to create an account on OSGrid's experimental grid, Danger Grid.
Once you've got that, you will need to edit the shortcut to add –loginuri http://login.danger.osgrid.org
The meshes are on region danger 7.
Don't put anything here you want to save — the region is a testing sandbox, and is regularly cleared out.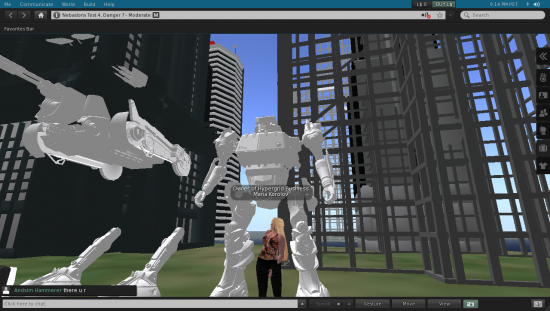 OSGrid president Michael Emory Cerquoni (also known as "Nebadon Izumi") tried out the new meshes.
"There is no physics collisions yet or the ability to upload textures at same time you're uploading mesh," he said, standing in front of a giant mesh monster. "But they are working on it."
He added that there was also no way to ride a mesh creature yet.
As it stands right now, the OpenSim meshes can be used to do fly-throughs of complex imported objects from architectural drawing programs and computer aided design systems. They can also be used for trees and other landscaping elements.
But then again, it's only been one day.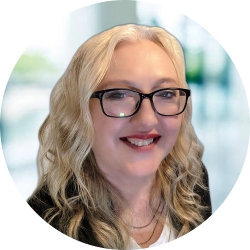 Latest posts by Maria Korolov
(see all)