The total land area on OpenSim's public grids rose by the equivalent of 1,616 standard regions to 52,180, the grids gained more than 6,000 new registered users, but the number of active users fell by 280 this month on the back of a continued outage at OSgrid.
Metropolis was the biggest gainer, with OSgrid refugees helping increase its total number of regions by 686, for a new high of 5,447 regions. SimValley gained 519 regions as part of its expansion plans, nearly doubling its size. Virtual Highway, Kitely, Lost Paradise,  ZetaWorlds, 3rd Rock Grid, FrancoGrid and the Great Canadian Grid all gained substantial numbers of regions, as well.
The biggest loser of regions was OSgrid, which — though it was down for this past entire month — still shrank by 133 regions.
The most significant increase this month was in the number of OpenSim downloads. The top four distributions of the software were downloaded a record 7,299 times since mid-September. That includes 640 downloads of the Diva Distro, 1,230 new downloads of Sim-on-a-Stick, 66 downloads of New World Studio, and 5,363 downloads of the standard distribution at OpenSimulator.org.
Two new updates to OpenSim may have contributed to the record number of downloads, including 0.8.0.1, which fixed issues with avatar attachments and physics, and 0.8.0.2, which fixed a permissions glitch.
According to Hypergrid Business estimates, the OpenSim software has been downloaded 211,775 times since September 2010, when we first started keeping track.
Popularity
For company and school grids, relative popularity is not an issue — the grids are set up for a specific purpose, and if they meet that purpose, then they are successful. The same is true for grids run by niche communities or that serve a special need not met elsewhere.
But when it comes to general-purpose social grids, the rule of thumb is: the bigger and busier, the better. People looking to make new friends look for grids that already have the most users. Merchants looking to sell content will go to the grids with the most potential customers. Event organizers looking for the biggest audience… you get the idea.
With that in mind, here are the ten most popular grids this month:
The biggest gainer was Metropolis, which was a top destination for OSgrid users locked out of that grid. Metropolis gained 356Â new active users, for a new record high of 3,108 actives, making it the most popular open grid.
FrancoGrid, another open grid, gained 170 users, and The Great Canadian Grid — known for its $4.50 regions — gained 165 new users, though at 263 active users total, it wasn't quite enough to make it into the top ten list.
Island Oasis, which rocked the latest grid users survey, gained 122 new active users and Kitely gained 102. Lost Paradise gained 92 and Craft World, another open grid, gained 55. Zetaworlds, which has also welcomed OSgrid refugees, gained 51.
Of these top gainers, only Island Oasis is not on the hypergrid.
The OpenSimulator Community Conference, with 686 active users, would have made sixth place in our list, as a result of running load and scalability tests every Tuesday.  The conference is still accepting registrations for the November event.
Tangle OS ready for new regions
Tangle Grid announced a new open grid, Tangle OS, two weeks ago and the grid is now ready for the public to attach their regions, at no cost.
Tangle OS is a completely separate grid from Tangle Grid, which is best known for its monthly expos. Tangle Grid is a commercial grid, with all regions hosted by the grid itself. Tangle OS, however, is an open grid — similar to OSgrid — and people can connect their own home-based regions for free.
Tangle OS is also hypergrid enabled, and — since users are running their own regions — allows residents to save and load OAR region backup files and IAR inventory backups.
The grid also makes manual weekly backups of everything.
"We are pleased to offer this service to metaverse members who were displaced by the temporary closure of OSgrid," Tangle Grid consultant Kevin Klerks told Hypergrid Business. "We started this grid in OSgrid-style to give people a stable place to house their regions while waiting for OSGrid to come back online. Tangle OS, however, will not come down when OSGrid comes back online. It will stay up for as long as it is used and needed."
The grid is running the latest version of OpenSim, completely with Bullet physics. There are some free clothes, textures, and animations in th welcome center plaza to help people get started. There are also free shops available for residents to use. Teleport in to check it out at tanglegrid.net:8102.
"In the spirit of OSGrid there is no monetary system available, this is a non-commercial grid providing a free service to the metaverse community," added Klerks.
SimValley has big expansion plans
SimValley has nearly doubled in size, to 1,087 regions this month, and plans to offer variable-sized regions later on this month.
Like Tangle Grid, SimValley also has an open sister grid, called OpenSim.nl.
"We are expanding our grid OpenSim.nl to provide services comparable to OSgrid," grid owner Johan Taal told Hypergrid Business. "We are very sorry to hear OSgrid was down. We all started our first OpenSim steps with good memories. A service like that can't be disappearing like this. So we are testing on this moment. And if OSgrid won't come back we like to continue this service with the help of our provider and business partners. Like SimValley, we will first start locally but will expand internationally in the start of next year if OSgrid does not return."
Exportables grow at twice the rate of products on Kitely Market
Kitely Market merchants continue to embrace the hypergrid. Exportable product variations grew at 5.5 percent compared to last month, more than three times the 1.5  percent growth rate of non-exportable variations.
There are now 6,251 variations of 3,201 products on the Kitely Market, making it the largest multi-grid marketplace in OpenSim.

"Our goal is to make Kitely Market the go-to venue for virtual world and virtual reality related content," Kitely CEO Ilan Tochner told Hypergrid Business. "As part of our strategy we're adding various advanced features to our marketplace. Last month we added an advanced analytics system to the marketplace and the additional features have helped attract new merchants to Kitely Market."
Kitely has also been seeing more in-world activity, as some OSgrid refugees have made their way to that grid.
Most recently, the Kitely Market has seen new Halloween-themed products added, including pumpkins, kobolds, undead skins, haunted houses, and more.
Littlefield celebrates Halloween all month long
Littlefield Grid has opened its month long Halloween region at Stonehaven Party Isle. You'll find bonfires, haunted hayride, haunted balloon ride, cornfield maze, and many other surprises. The region will be running until Monday, November 3, 2014. There will be a Halloween costume party on Halloween Night at 8 p.m. Pacific on October 31 with dancing, a live DJ, and prizes.
Teleport in via hypergrid at hg: lfgrid.com:8002:Stonehaven Party Isle.
Also ongoing this month is a crow hunt on Melody Island sponsored by Cerridwen Melody.
Hidden around Melody Island are 20 crows, filled with gifts such as mens clothing, ladies clothing, unisex clothing and random furniture items. The clues to the hunt are in the 20 Crows Poem. Teleport in via hypergrid at hg: lfgrid.com:8002:Melody Island.
Club Zandramas holds Halloween Hunt
Club Zandramas is going all-out for Halloween this year, with a holiday-themed hunt that runs from October 20 to November 1.
Zandramas, a closed, invitation only grid, is considering opening the Club Zandramas region to hypergrid visitors in the near future.
"We feel the venue is really a lot of fun and people really do enjoy it and we would like to share this with everyone on the hypergrid," Zandramas manager and co-founder Suzan De Koning told Hypergrid Business. "If or when we do this we will do it in a way that only that region can be accessed and no content can come or go from Zandramas which would maintain our very good content protection and privacy already in place that makes content creators & residents in our grid very happy."
Several grids have recently begun offering hypergrid travel in combination with content protection, for example, by not allowing non-full-perm items from leaving the grid. Kitely was the first, Spellscape and AviWorlds have done so most recently, and 3rd Rock Grid is about to follow suit within the next few weeks.
Zandramas has also brought a new grid administration on board, SkyeSunset Willow, who is helping residents. When not in-world she is a special events coordinator and wedding planner, with an educational background in marketing and business and experience in the fashion and entertainment industries.
Craft recovers from RAID-related outage
Craft was down for a few days earlier this month, when a planned maintenance shutdown turned into something longer when a problem was discovered in its RAID storage arrays, a kind of storage technology that has also been in a factor in the shutdown on OSgrid and on Next Reality Grid.
"For grids that have no big capital to spend in its structure, the challenge is 'spending the least and having the most possible'," grid owner Raffaele Macis — also known as Licu Rau in-world — told Hypergrid Business. "We can't afford a central server with RAID 5 disks at the moment so we must go on with our RAID 1 server, although it is not the best solution. Indeed during the maintenance we found that one of the two RAID disks was not working at all. That was fixed in one day of work — our database is 250 gigabytes."
By comparison, the OSgrid database is 3 terabytes in size, or twelve times larger.
"After that we proceeded with the planned improvement, which was a database replication of data from the main server to a slave server," Macis said. "All our data is now safe in two different RAID 1 servers, and the quality of sleep — for me at least — made a big improvement too."
Craft now has a 500 Mbps connection, RAID 1 storage, 12 Robust instances balanced by Nginz — four for assets, four for inventory, and four for other services — and a slave server with 250 Mbps Internet, RAID 1 storage, and a real-time replica of the central database.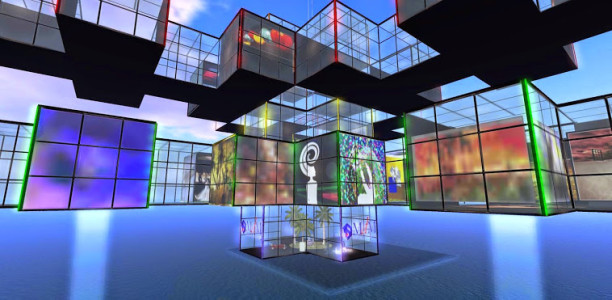 It's a good time for an upgrade because not only is the Museo del Metaverso starting back up after two years of inactivity, but Milan's Accademia di Belle Arti di Brera — the Brera Academy of Fine Arts, founded in 1776 and one of the world's leading academic institutions — will be getting six full regions on Craft, surrounded by 16 landscape regions.
The academy experimented with virtual  modeling lessons on the Brera Academy Virtual Lab region last year, and the pilot project went well, Macis said.
Halloween on Spellscape
Merrie Schonbach — also known as Andress Renault in-world, is organizing this year's Halloween Ball on the Spellscape Grid. The event will be on the Honeywood region, at the Red Moon Club. Teleport in via hypergrid at grid.spellscape.co.uk:80:honeywood. on Saturday, Oct. 25, at 2 p.m. Pacific.
The grand prize of the costume content is a free region on Spellscape for 12 months, a four-region varregion with 30,000 prims.
Littlebird adds currency
The recently-launched Littlebird Grid has added an online forum for its residents, and has begun rolling out currency.
"This currency has no value as of yet but we are working on the legal aspect of buying and selling and once we have everything legit then it will be very real," grid administrator Matthew Marlatt told Hypergrid Business. "However, in the meantime please feel free to drop by and play with our Monopoly money – the more people we have testing it and using it the more easily we can identify any bugs within the system."
The grid can be visited via the hypergrid at lbgrid.com:8002.
Transitions
We have three new grids on our list this month, including SuziWorld, Jnix World, Soloton Grid
We're listing 1d grids as suspended this month because we haven't been able to get to their grid info pages or websites these past few weeks, including:  Atcradar, Castle Reaper, D3D, Embraced Life, enghome3d, Grid Empire, Haven, iSynergy3D, Maui Tours 3D, OuterLimits, Pleasant Retreat, SimB2B, The World of Begabungs, Virtual Life Grid, and World-DC.
And we're marking a few grids officially closed because they've been down for a while and show no signs of coming back. They include AviWorld3D, Another World, Cuddles' World and Worlds4Us. In fact, there are 82Â different closed OpenSim grids with the word "World" in the title.
My recommendation? If you're naming a grid, try to avoid anything with "world" in it.
If there's a public grid we're not tracking, please email us at [email protected]. There's no centralized way to find OpenSim grids, so if you don't tell us about it, and Google doesn't alert us, we won't know about it.
I'm not going to list the Second Life region losses this month. I just don't have the heart for it.
October Region Counts on the Top 40 Grids
The list below is a small subset of existing OpenSim grids. We are now tracking a total of over 859 different publicly-accessible grids, 223 of which were active this month, and 175 of which published their statistics.
All region counts on this list are, whenever available, in terms of standard region equivalents. Active user counts include hypergrid visitors whenever possible.
Many school, company or personal grids do not publish their numbers.
The raw data for this month's report is here. A list of all active grids is here.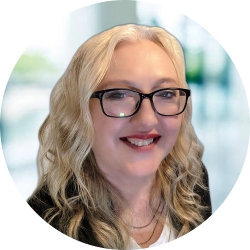 Latest posts by Maria Korolov
(see all)