Nike's latest promotional video can be viewed on virtual reality headsets like the Google Cardboard.
The short video, Nike Hypervenom II – The Neymar Jr. Effect, A Virtual Reality Experience, was filmed in 360 degrees from the viewpoint of Brazilian soccer star Neymar Jr., and has been watched more than 1.5 million times since it was posted a little over a week ago.
Viewers using a traditional browser or an iPhone can move the camera in any direction by using the mouse, the arrow keys, or by moving the smartphone itself. Android users have another option — they can drop their smartphones into their virtual reality headsets and experience the video in immersive 3D.
While some viewers had trouble getting it to work on older phones or browsers, most were amazed by the experience.
"This is the coolest thing ever," said YouTube user Hayden Lucas in a comment six days ago.
"This is actually incredible," wrote Antonios Vasilellis Neto yesterday.
Click here to find out where to order Google Cardboard cases starting at under $8.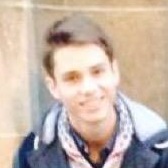 Latest posts by Chris Kirkup
(see all)