When Stanford kicker Derek Belch started work on his master's thesis in virtual reality football, he had limited aspirations.
"Goal number one was to do a good enough job to get an 'A' on the project," Belch told USA Today. "Number two, help Stanford football. Floating in the back of our minds was number three – find a way to do this commercially."
With the help of professor Jeremy Bailenson, founding director of Stanford's Virtual Human Interaction Lab, Belch created STRIVR, a virtual reality system designed to train football players. When Belch first began testing STRIVR with the help of the Stanford football team, head coach David Shaw was so impressed that he became one of STRIVR's first investors.
Using several cameras and a lengthy filming process, STRIVR software can generate a view from any position on the football field, as Belch explains to Fox Business in the video below.
When a player uses the software with an Oculus Rift headset, the player's coach can tell where the player is looking and where his hands and feet are positioned. This allows the coach to give feedback that will help the player refine his technique and encounters time constraints. This feedback plays a vital role in the development of elite football players.
Revolutionizing the game
Good quarterbacks lead their team like generals lead armies. They must account for and react to the actions of twenty-two players on the field at all times. They need to have hundreds of plays memorized and know the tendencies of their teammates and the opponents they are going up against.
Practice is key to developing the ability to maintain focus and make decisions quickly and confidently on the field. While on-field practice can help to develop these abilities, it increases injury risk, and falls victim to time constraints.
Watching game tape can help some, but it has its limitations. This is where virtual reality steps in.
Baileson's research at Stanford demonstrates that the brain absorbs a third more information from virtual reality simulations than from video. Because of this, virtual reality allows players to mprove their skills more quickly without risking injury. It also allows players to practice for longer amounts of time, because they aren't forced to compete for reps on the practice field. All of this means that software like STRIVR has the capacity to revolutionize the way football players train, and big programs are beginning to take notice.
Today STRIVR is used by major college football programs like Stanford, Clemson, and Auburn, as well as by the Dallas Cowboys. STRIVR is also in the running for a deal with the Tampa Bay Buccaneers who would use the technology to help develop their new quarterback, and first overall pick in the NFL draft, Jameis Winston. However STRIVR is not the only candidate for the Bucs' virtual reality software of choice.
Competition in the field
EON Sports VR's SIDEKIQ technology differs from STRIVR in that it uses computer generated graphics instead of taped video.
According to EON Sports' 28-year old CEO Brenden Reilly, while artificial content is less realistic, it allows the software to be more flexible. Artificial content allows coaches insert play directly into the software without the filming required by the STRIVR software.
SIDEKIQ also runs on low-cost, smartphone-based headsets like the Durovis Dive or Google Cardboard cases. The company even offers its own SIDEKIQ VR Headset for $99, which is designed to work with the Samsung S5, iPhone 6, or any other smartphone with a screen size of 4.7 to 5.5 inches.
SIDEKIQ loyals include Syracuse, Ole Miss, UCLA, and Kansas, and the company is eager to add more programs to that group by adapting the software to fit more positions.
"We are always looking to push boundaries and be innovative in how we train our athlete's bodies and minds," David Beaty, head football coach at the University of Kansas, said in a statement. "This is a huge competitive advantage and allows us to prepare our players to excel at the collegiate level and beyond."
While STRIVR is designed primarily for quarterbacks, linebackers, and safeties, the most mentally taxing positions on the field, EON Sports is developing programs to help train players in other positions like offensive linemen and cornerbacks.
Looking forward
Both companies are seeking to expand their respective customer bases by improving accessibility. EON Sports is developing a smartphone app with an annual subscription of around $800 dollars, allowing programs with more limited funds to take advantage of their technology.
Meanwhile, STRIVR is working to improve the turnaround time for their video development, allowing teams to gear their training to specific game plans. With these advances and the growth of virtual reality technology as a whole, the futures of both SIDEKIQ and STRIVR are looking bright.
"I'm thinking in two years this is gonna be in a lot of places and three years from now, you'll feel like you're left out if you don't have something like this," Stanford head coach David Shaw told Fox Sports.
STRIVR's Belch is more measured in his comments but still remains optimistic.
"Everyone on the team and in the [Stanford football] office thinks I'm gonna be a billionaire from this, and I disagree," Belch told FOX Sports. "I'd be shocked if I was because my MBA brain starts to kick in and says, 'There's only 32 NFL teams. There's only 25 to 30 college teams that can really afford this.' Now, there's a billion high school kids so that's where we can really grow it, but that relies on how many kids have headsets and what are the computing requirements. We may be two years away from widespread use, but I do think we're poised to do something very, very cool."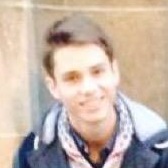 Latest posts by Chris Kirkup
(see all)