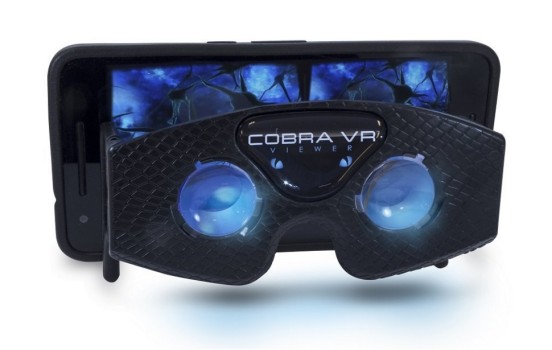 If you're in a gang, or want to be, you don't want to be wearing a geeky virtual reality headset that covers your entire field of view.
After all, you don't want someone to be sneaking up on you and stabbing you in the side.
And you certainly don't want to be using a headset that looks expensive and delicate — or one that's made of pink plastic. That would be humiliating.
The Cobra VR headset is the answer.
The black, snake-skin embossed headset folds up as small as a pair of sunglasses, easily slides into your pocket, and has open sides so that you still have your peripheral vision.
I ordered mine from Amazon for $9.99.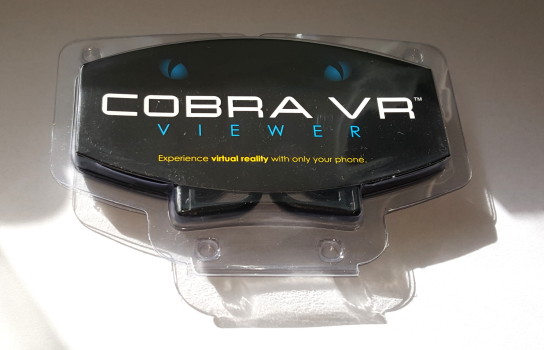 The packaging was unexpectedly easy to open, and the viewer had a sticker with the Google Cardboard QR Code right on it, which is nice of them.
And the lenses had a little protective covering on them, which was easy to peel off.
The headset did not come with a case — unless you consider the reusable plastic packaging as a case. And the lenses were not adjustable. By comparison, both the Goggle Tech C1-Glass and the Baofeng Small Mojing have adjustable lenses.
It does feel more sturdy, however, than the Homido Mini.
If you order these directly from Handstands, the manufacturer, you can get your own logo on them, and get a price as low as $3.99 each.
Usability
Like all open-sided headsets, the access to the screen means that switching apps is easy. Having the QR Code right on the headset itself is very useful — every headset manufacturer should be doing this.
The field of view feels like about 90 degrees, so you are looking at the virtual world through a square. Plus, since the top and sides are open, this headset isn't as immersive as the fully-enclosed headsets.
But it is extremely light and very easy to use and the grips feel very sturdy.
The black snakeskin texture and the snake eyes logo does indicate a particular demographic, but if your company's customers fall into that demographic — you make motorcycles, say — then I would definitely recommend this over a basic viewer made out of cardboard.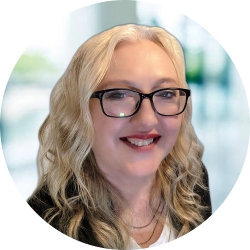 Latest posts by Maria Korolov
(see all)