The total land area of the public OpenSim grids fell by more than 1,000 regions this month as ZanGrid shut down and Genesis Metaverse moved its hosting.
Total active users numbers continued to rise, however, with about 2,000 new actives.
Zangrid, which had 439 regions as of last month, is closing at the end of this month while Genesis Metaverse, which had 1,148 regions last month, went offline for more than a week as it changed hosting from DigiWorldz to its own servers. Its land area went down by 949 regions during the move.
A couple of other grids saw small land area decreases –Â OSgrid lost 159 regions while AllCity lost 152 regions.
Other grids gained land area.
DigiWorldz saw the most growth this month, adding the equivalent of 276 standard regions, followed by Metropolis with 229 regions. Kitely added 196 regions and Kinky Grid 162 regions.
These stats do not include most of the mini-grids running on the DreamWorld distribution of OpenSim, or private company or school grids. According to the latest DreamWorld stats, more than 2,182 mini-grids have been created with this installer alone, out of which 14 percent or 789 are hypergrid destinations.
OpenSim is a free, open source virtual world platform that's compatible with the Oculus Rift. It allows people with no technical skills to quickly and cheaply create virtual worlds, and then teleport to other virtual worlds. Those with technical skills can run OpenSim worlds on their own servers for free, while commercial hosting starts at less than $5 a region — compared to $300 a region for the same land in Second Life.
A list of hosting providers is here. Download the recommended Firestorm viewer here. And find out where to get content for your OpenSim world or region here.
Popularity
When it comes to general-purpose social grids, especially closed grids, the rule of thumb is: the busier, the better. People looking to make new friends look for grids that already have the most users. Merchants looking to sell content will go to the grids with the most potential customers. Event organizers looking for the biggest audience… you get the idea.
GreekLife was the lagest gainer of active users in the month with 377 new active users followed by Sacrarium grid that added 294, Islands of Enlightenment with 241 and ZetaWorlds with 175 more active users. Genesis Metaverse lost 589 active users as a result of the changes it made, becoming the grid that lost most active users in the month, followed by 2Open that lost 186 and Virtual Life Brasil with 84 active users.
Top 25 most popular grids this month:
DreamWorld numbers cross 2,000 mini-grid mark
OpenSim users looking to run their own private mini-grids on their personal computers are embracing the DreamWorld installer. This month, the number of installations has reached 2,182 OpenSim mini-grids in its network, 14 percent of which, or 789, are hypergrid-enabled.
DreamWorld gathers the data using a grid crawler but grid owners can also add in their grids into the list by filling a simple form here.
The full list of all grids including the date grid was created, hop address and whether it is hypergrid enabled or not can be found on this page.
VirTec shows slight increase in transactions, drop in total revenues
Revenue in the VirTec network fell by 14 percent this month although the amount of transactions increased slightly to reach 657 this month and the number of merchants remained fairly the same compared to last month's tally, which indicates that the average value of transactions went down.
InWorldz led in terms of the dollar value of transactions or VirTec revenue, followed by DigiWorldz, then Genesis Metaverse and Great Canadian Grid.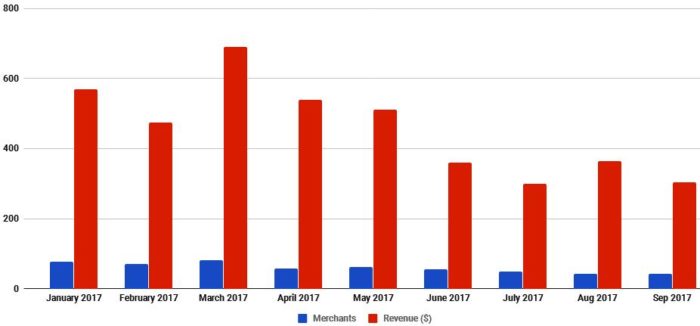 Gloebit's number of transactions and users continue to rise
The value of transactions in Gloebit network increased by 8 percent in September to reach a new high of over 1.5 million Gloebits or more than US $6,000 in dollar equivalent, while the number of user accounts went up by four percent to reach 1,066 in the same month.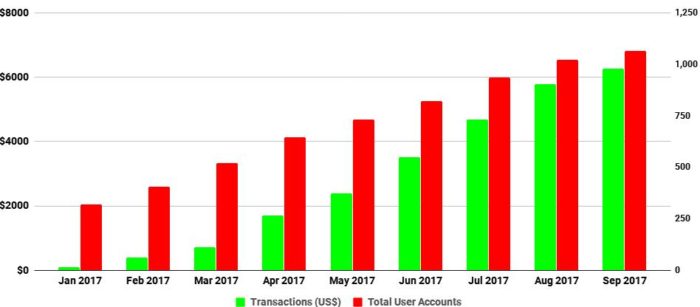 The number of transactions is rising faster than the number of users, which means the existing users continue to spend more and more money with Gloebit.
Kitely
There are currently 10,697 product listings in Kitely Market, containing 20,275 product variations of which 15,496 are exportable, meaning they can be used not just in Kitely only but in any other grid. These make up 76 percent of all variations.
Kitely Market now delivers items to 223 OpenSim grids. This is eight grids more than last month's tally.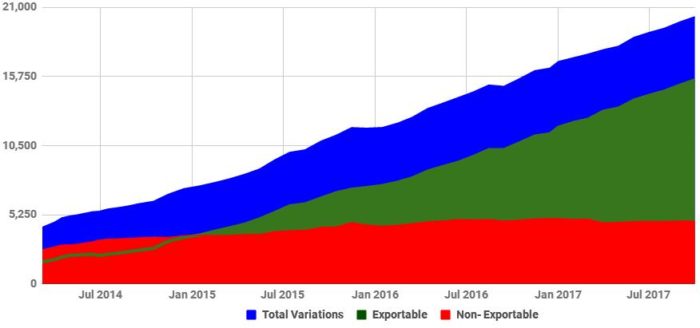 Ruth 2.0 mesh body project is looking for a skin maker
Ruth 2.0, is a new mesh avatar body for OpenSim, to be distributed under a Creative Commons license. It is currently available with a female shape, and a male shape is planned for the future.
The creator, Shin Ingen, is now looking for collaborators, specifically a skin maker who can contribute pale, tan and dark skins.
Ruth 2.0 currently has 17,000 vertices for the head, left and right Bento hands, upper and lower body and a set of high feet, all of which is 8,000 shy of the ideal maximum game character polycount of 25,000.
Mesh bodies can look nicer than the "system" shapes available to OpenSim users, which are modified using sliders. However, mesh bodies also require custom-made clothing and accessories, and costs can add up if the base mesh bodies are proprietary and creators and users have to pay for the models.
The owner is also looking for people willing to help optimize the basic texturing, vertex weight to make it easy for people to build clothes using the software and to simplify weight transfer from the mesh body to the clothes being made.
Using Ruth 2.0, creators will be able to make clothes, shoes and other apparels and accessories and develop their very own fashion lines supporting their own fashion models.
The original "Ruth" is the name of the default system avatar in Second Life and OpenSim.
Get free parcels from Freebies Parcels at Neverworld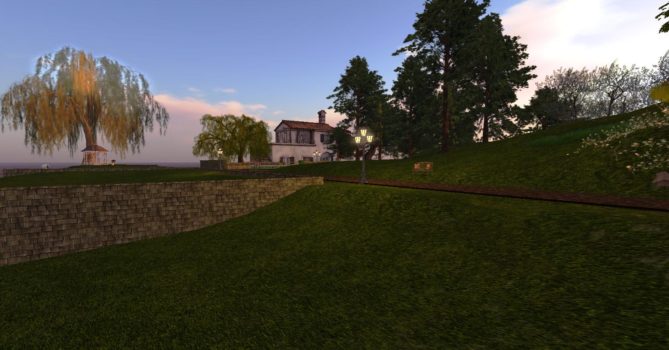 Neverworld grid has two standard-sized Freebie Parcels and Freebie Parcel II and The Enclave where anyone, including those from the local grid and hypergrid worlds, to set up a nice, serene parcels measuring approximately 4,000 to 5,600 square meters in area.
You do not need to create an account with the local grid to set up the land.
"The only main thing we ask is that you actually build on the parcels, since it is first come first serve," grid owner Govega Sachertorte told Hypergrid Business. "If you do not, we reserve the right to revoke the parcel and make it available to someone else. We feel this will be a big help to off grid members who cannot afford to rent a parcel in their home grid. I plan to add more freebie parcel regions this month."
The hypergrid region address is: hg.neverworldgrid.com:8002:Freebie Parcels and hg.neverworldgrid.com:8002:Freebie Parcels II

Baller Nation to host Founder's Day next week
Baller Nation will host the Grid Founders Day for four hours starting at noon Pacific on Thursday, October 19 and is calling all hypergrid visitors to come in and celebrate in this costume party together with them as they mark two years of operations.
The event will feature entertainment by DJ Lani and DJ Utmost.
Baller Nation also has new mesh body release that has tons of color options. It is available for shopping at the grid's Gloebit-enabled Imagine Anything Market region.
The login address is: login.ballernation.us:8002:Imagine Anything Market
Hypergrid Chamber of Commerce is proposing a Virtual Worlds Fair
Hypergrid Chamber of Commerce, which has been trying to bring OpenSim stakeholders in all sectors including finance and development, is proposing a Virtual Worlds Fair that will list hypergrid destinations of interest, host nonprofit and commercial exhibitions from different people in OpenSim, and host events and walkin teleports of interest.
This will help promote virtual worlds on the hypergrid. Infinite Metaverse Alliance grid is willing to provide space and promotion for the fair but is proposing that a group come together to make it a success.
The event is great for those willing to look for more audience for their grids, services and creations.
See details of the proposal on this page.
All things Halloween for October and November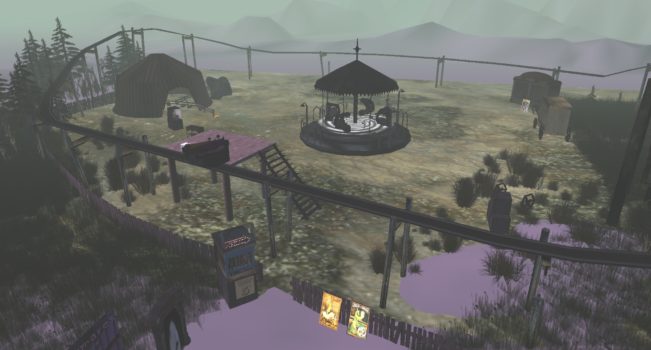 Many grids are already planning Halloween-related events including hunts, parties and entertainment. Examples include DigiWorld's third annual Halloween party on October 28 at the Halloween Region, Tangle Grid's Halloween Expo at the Expo Isle region starting this Sunday 12 noon Pacific and Halloween Hunt at the Halloween Hunt region in the Kroatan grid, which kicked off on Friday.
Read more on Halloween events from our Halloween story here. You can also let us know what you are planning so we can include it in that story.
Topi's World grid rebrands as Lost Soul Camp
Topi's World grid is back online on its own Teampeak server and has changed its name to Lost Soul Camp with a new website, according to a post.
The grid, which is still hypergrid-enabled, offers rental land starting at 20 Euros for a standard-sized, 30,000 prim region.
OpenSimulator Community Conference coming this December
OpenSimulator Community Conference, which is an annual event targeting OpenSim developers and the user community, will be held on on December 9 and 10 on the OpenSimulator Conference Center grid.
The event will focus on the latest software releases, visions for the future, and technologies or content today that are shaping the future of the OpenSim platform. The organizers are looking for volunteers, presenters and sponsors. The event will feature short presentations, panels, performances, and workshops.
View all news, schedules and other information on the OpenSim Community Conference website.
Transitions
We added two new grids into our lists. Chilumba Grid is a place for those looking for freebie shops and a nice place to relax. UKTurk, which helps people learn English and Turkish, also enters the list this month.
The following six grids were marked as suspended this month: CloneLife, FreeLand, Micachee, REDgrid, Ventureworldz and Yugen World.
Grids that have been suspended for more than two months will be marked as closed. If your grid isn't on the active grids list, and not on the suspended list, it may have been marked closed when it shouldn't be. Please let us know.
And if there's a public grid we're not tracking, please email us at [email protected]. There's no centralized way to find OpenSim grids, so if you don't tell us about it, and Google doesn't alert us, we won't know about it.
By "public," we mean grids that allow hypergrid visitors, or have a website where people can register for or request accounts.
In addition, if a grid wants to be included in the monthly stats report and the most active and largest grid lists, it needs to have a stats page that shows the number of unique 30-day logins, and the total number of regions on the grid. In order for the grid not to be undercounted, 30-day active users stat should include hypergrid visitors, and the land area should be in the form of standard region equivalents, square meters, or square kilometers.
October Region Counts on the Top 40 Grids
The list below is a small subset of existing OpenSim grids. We are now tracking a total of 1,255 different publicly-accessible grids, 259 of which were active this month, and 181 of which published their statistics.
All region counts on this list are, whenever available, in terms of standard region equivalents. Active user counts include hypergrid visitors whenever possible.
Many school, company or personal grids do not publish their numbers.
The raw data for this month's report is here. A list of all active grids is here. And here is a list of all the hypergrid-enabled grids and their hypergrid addresses, sorted by popularity. This is very useful if you are creating a hyperport.
You can see all the historical OpenSim statistics here, including polls and surveys, dating all the way back to 2009.
Below are the 40 largest grids by total land area, in terms of standard region equivalents.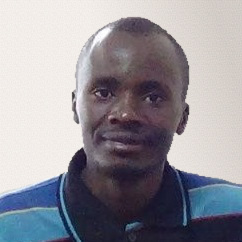 Latest posts by David Kariuki
(see all)