It's not too late to order virtual reality presents for the holidays — and they don't have to cost a lot of money, either!
Once you get your headset, click here for instructions on what to do next.
Here are some of my favorites — and I've personally tried these, and have had other people try them, and can confirm that they're great for watching 360-degree videos and playing casual games, and aren't overpriced. (Please note that affiliate shopping links are included where available.)
Goggle Tech C1-Glass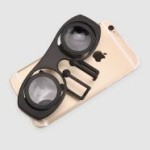 This is the headset that I carry with me in my purse and pull out whenever I want to demonstrate virtual reality to anyone. It's super easy to use, comes in four colors, and even has a nice carrying case. It also works with any smartphone.
As with the other open-sided headsets on this list, it does let in light from the open sides, so it's not super immersive. And you do have to hold it up to your face, so you're not going to be watching long movies on it. You don't need a button or controller with this or any other open-sided headset since a tap on the screen works just as well as hitting a button, and these kinds of headsets offer easy access to the screen.
Get it for $25 on Amazon.
VR Fold

This headset is just $6 on Amazon. and works on any late-model smartphone, both Androids and iPhones.
It has a very decent 95-degree field of view, adjustable lenses, is available in black, purple and red, and folds in half to fit into even the smallest stocking. You use it by snapping it onto your phone, holding it in your hands, and looking through the lenses. It's not for watching long movies — your arms will get tired holding it up — or playing complex, interactive games. But it's great for short 360-degree videos and quick casual games.
Mattel View-Master VR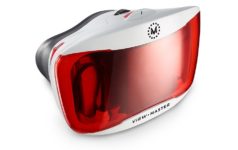 The Mattel View-Master may be a toy, but it is a fully-functional Google Cardboard headset. You can pick up the latest version, which has adjustable focus, in person at Target, Walmart or Toys R Us. Buy it for $14 at Amazon for the older one, or $30 on Amazon for the new one.
There are no straps, but it is very easy to use and is great for kids. I bring mine with me when I do VR headset demos and people love it. Â It's has a nice built-in button, so this is a great headset for users with iPhones, who can't use a Bluetooth remote since Apple doesn't support them.
VR Case
This VR headset,actually doubles as an iPhone case and phone stand. It folds flat and comes in several different color combinations.
You can get the black one with the rose gold accent for the 4.7-inch iPhone 6 and iPhones 6s for just $4 on Amazon because it's currently on sale. There one that's all rose gold, all regular gold, all silver and all black for $6 on Amazon and a silver one for $8 on Amazon.
For the 5.5 inch iPhone 6 and 6S Plus you can get a black-and-silver case for $5 on Amazon.
I haven't written a full review of one these, but I've tried it out, and gave it as a gift to a friend with an iPhone. It's nice if you're a VR fan and don't already have a phone case, but not so nice if you do have a case and have to take it off in order to use this viewer.
Leji VR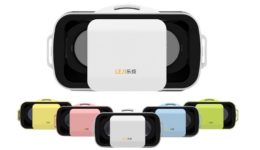 I love the Leji headset and it was my favorite for much of the past year.
It's small, lightweight, easy to use, and comes with straps. That means that you can actually use it to watch movies with your headset. It fits both Androids and iPhones, but it doesn't have a built-in button, so if you're an iPhone user, you'll be limited to applications that don't require a button. Fortunately, most of the popular ones don't and are either passive experiences that you just watch, or use a look-to-activate functionality where you just look at a lever or other object inside the virtual reality experience to make it do something.
If you search for "Leji VR" on Amazon you'll also find sellers that bundle it with a little Bluetooth controller, but these will only work on Android phones.
Get the white one for $10 on Amazon. Get a blue one for $10 on Amazon. Get a yellow one for $13 on Amazon. Get a pink for for $12 on Amazon.
Cobra VR
This is a very cool-looking folding headset. It's $17 on Amazon, fits any smartphone, and folds flat.
This one of the sturdier folding headsets, but is still pretty small and light, so it fits nicely in a stocking.
Powis VR
People love this headset when I bring it to conferences, because it's nice to hold and is extremely easy to use. The built-in button makes it a nice choice for iPhone owners. But the basic material it's made of is cardboard, so it might not be the most durable headset, the lenses are not adjustable, and it is one of the most expensive headsets on this list. It might also be a little big to fit in a stocking. But look how cute it is!
Buy it for $30 directly from Powis or for $25 from Amazon.
Dscvr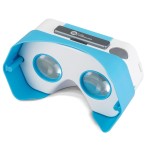 This is a brightly-colored, easy-to use headset. It's also sturdy, comes in five different colors, and has a nice button. It works with all smartphones, including iPhones. You do have to hold it in place, though, since it doesn't have any straps.
Buy it for $25 from Amazon or for $25 directly from the manufacturer, I Am Cardboard.
Samsung Gear VR
If you have a late-model Samsung phone that hasn't exploded yet, the Gear VR is the best mobile headset you can get. Samsung has partnered with Oculus, one of the biggest names in virtual reality, to get some great developers on board and there's a very large selection of video apps, including Netflix and Hulu.
Buy it for $85 on Amazon, or directly from Samsung for $100, or pick it up in person at Best Buy and other retailers. Call ahead first, though, to check for availability. Some stores will also do free demos.
Daydream View
The Gear VR isn't the best mobile VR headset on the market, however. That prize goes to Google's Daydream View, which just came out.
I got this headset in late November, and stopped using all the other headsets I own. This headset is immersive, light-weight, and extremely easy to use. It's got a great catalog of applications, including all the top video apps — Netflix, Hulu, HBO Now, YouTube VR Â — and a nice and growing selection of games. Plus, unlike the Samsung Gear VR, you can run all the thousands of apps already created for the Cardboard platform. Just search for the "VR" in the app store.
What's the catch? It's only works with the very latest Android phones. Right now, those are the Pixel, Pixel XL, Moto Z, Moto Z Droid, and Moto Z Force Droid.
I love this headset. And I really love the controller, which senses motion so that you can use it as a wand or a sword or a golf club.
If you have someone in your family with one of the supported phones, this is the headset to get. Mine came free with my Pixel XL, too — so check with your provider before you buy your new phone to see if you can get one for free as well.
Can you still get it in time?
The BestBuy website — which lists it for $79 — says that they can ship it to you by Dec. 22 if you order today, and it's also available in some stores.
Verizon offers it for $80 in three different colors with two-day shipping available. You can also buy it directly from Google for $79 and the website tells me that if I order it now, I can get it by Dec. 22.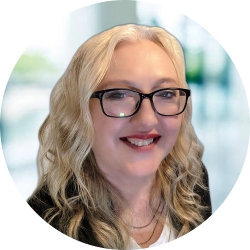 Latest posts by Maria Korolov
(see all)